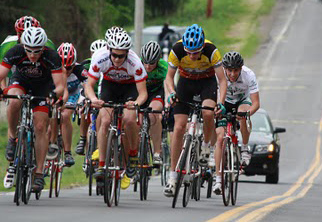 This year's races include two new courses found on the following days:
Saturday May 18th: the Time Trial and Criterium
Race 1 – The Pleasant Valley Time Trial – now a 15 Km Individual Time Trail with a "pleasantly" deceptive name. This is the Time Trail course of the original Empire Games State games. We're sure racers will welcome its return.
This will be staged from Marcellus Park with the race being run on Pleasant Valley Rd.
Race 2 – The Onondaga Park Criterium – located in the Strathmore section of Syracuse, the .95 mile criterium loop has been a part of this race for years. There's good reason why we keep returning.
Sunday, May 19th: the New York State Championship Road Race
Race 3 – The Tully-Otisco Valley Road Race – is run on a classic road race course through the scenic, glacier created, eastern Finger Lakes Region.  Depending on your category, competitors will complete on one, two, or three laps across the hills and valleys of the region with a dash to the finish line located at the end of a classic 3/4 mile climb.
The Road Race, in partnership with the Village of Tully, its fire department, and the Tully school district, will be staged and started from the Tully Jr./ Sr. High School and connect with the same course that we've used in previous years.
Lodging information can be found here.
CATEGORIES & PRIZES
 
CATEGORY
DISTANCE
FEE
  PRIZES
Women
 
78 miles
$90
$800 / 8 places
 
78 miles
$90
$400 / 5 places
 
55 miles
$85
$400 / 8 places
 
Men
 
118 miles
$100
$1200 / 12 places
 
78 miles
$90
$800 / 8 places
 
78 miles
$85
$400 / 8 places
 
50 miles
$80
Awards / 3 places
 
50 miles
$80
Awards / 3 places
 
50 miles
$80
Awards/ 3 places
 
Masters
 
78 miles
$85
$400 / 8 places
 
78 miles
$85
$400 / 10 places
 
78 miles
$85
$400 / 8 places
 
Juniors – A Road Development Race Series Event
 
78 miles
$75
$600 / 8 places
 
78 miles
$75
Combined w/ Jr. Men 17-18
 
55 miles
$75
Combined w/ Cat 4 Women
 
55 miles
$75
Combined w/ Cat 4 Women
 
40 miles
$25
Medals
 
13 miles
$25
Medals